June 2021
Father's Day
Date: June 20, 2021
Time: 11 am - 4 pm
Location: Self Guided Vineyard Walk followed by Wine Tasting
Cost: Regular Tasting Fee $25
For Dad and Family- Self Guided Vineyard Walk and Tasting
Join us for a vineyard walk and wine tasting! Take a stroll in our vineyard and get out into the rows to experience what makes Dry Creek Valley so wonderful for growing our wines.
Fallen in love with what you've tasted? Perfect! We are extending a 10% discount on bottles for all Fathers who join us on Sunday (and on any wine bought for him too!)
Please wear closed toe shoes, no sandals or high heels.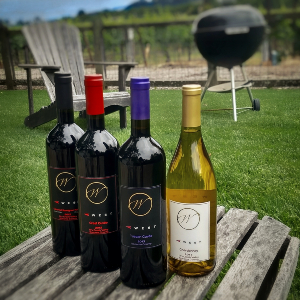 July 2021
Gourmet Popcorn and White Wine Pairing
Date: July 3-4
Time: Saturday 11am-5pm, Sunday 11am-4pm
Cost: $30
Fourth of July Weekend Popcorn Pairing
Experience four West Wines paired with an eclectic range of flavored popcorn. Join us vine-side to try these fun flavors Saturday 11:00-5:00 and Sunday 11:00-4:00.