Vineyards
Our vineyards lie in Dry Creek Valley in the heart of Sonoma County, California. We believe in sustainable agricultural practices such as minimizing the use of energy and water while using solar power. We use cover crops between our vine rows to create nutrition for the plants but also flowers which serve as a habitat for beneficial insects for pest control. Feel free to to charge your EV when visiting our Tasting Room!
Walk the vineyards with us and learn about grape growing and wine making, More information here.
Our Cabernet Sauvignon comes from the lush, beautiful West Crest Estate. It is located on a ridge and rolling hills facing both west and south on the west side of Dry Creek Valley 300 feet above the valley floor.  With the location and the morning fog we have a climate perfect for our Bordeaux style red wines.
Our white grapes, Sauvignon Blanc,  Chardonnay, and Viognier are grown in gravel loam soil on our creekside estate between our tasting room and Dry Creek in the south end of the valley. This is close to where Dry Creek joins Russian River and morning fog gives us cool mornings gradually yielding to the sun.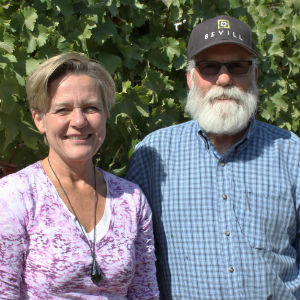 Katarina Bonde and Duff Bevill
Vineyard Management
Duff Bevill has managed the vineyards at West Wines from the start. He is a twenty-first century viticulturist, combining science with pragmatic, environmentally sound farming.
"I really enjoy the challenge of Cabernet. While it's a durable grape, it's an ongoing challenge to raise a 'good' Cab – to find the balance between ripeness, alcohol, and sugar. Winemakers want the 'best of the best' – rich dark berry flavors, good structure, without green/vegetative flavors. From a growing perspective, this comes down to location of the vineyard in the valley, sun exposure, row direction – many exact elements that are understood by growers who have farmed Cab in DCV for a long time."
Duff and Katarina discuss the relationship between winemaking and vineyard management here.