Time for Thyme
Friday June 30, 2017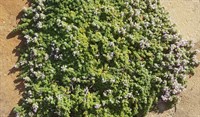 Low creeping thyme expands like soft pillows between the flagstones in my patio. Slow honey bees are humming, drawn to the purple little flowers. I really love the sight of it and the aromas. Just sitting next to it on the warm stones on a summer evening as the sun is setting is a peaceful experience.
Thyme is one of the most widely used herbs. Already the romans wrote about its many uses, medicinal, for cooking and psychological. It was thought to make warriors braver so they were sent off with a sprig of thyme. Monks brought thyme to Northern Europe and it became a staple in the English kitchen and part of well-known songs: "Are you going to Scarborough Fair? Parsley, sage, rosemary and thyme."
A French "bouquet garni" includes thyme, basil, tarragon, laurel, pepper, parsil and rosemary and is used in many dishes, one being Boeuf Bourguignon, Burgundian beef stew. And it is a great enhancement in a French Country pâté. Here is my recipe for a duck pâté, with thyme of course. In Sweden it is garnish and spicing for the yellow pea soup traditionally served on Thursdays followed by Swedish thin pancakes.
There was a tradition for women to keep a bouquet of flowers in their psalm books to smell during long sermons. Maybe the smell was supposed to keep you awake or camouflage the bad smell from other church goers, who knows.
It has been ordinated for melancholy by putting it under the pillow or in your beer. I do not know if it helps to put it in your wine, I rather drink my wine and smell the thyme quite frankly. Carl Linnaeus, who came up with the modern system of organization of botanical plants, had a lot to say about thyme. He was both a physician and a botanist and studied the effects of thyme on various illnesses. He recorded among other things that it helped against headache, head cold and hangover! Make an infusion of the leaves and try it for yourself. Putting it in your steaming bath water is said to clear your lungs and head and focus your thoughts.
The effects of various parts of the thyme plant have been studied in modern time as well and it shows that thyme has excellent anti-bacterial characteristics as well as helps in decreasing swelling which is probably why it is good for chest and head colds.
But the easiest is simply to plant this hardy herb in your garden or in a pot, sprinkle its leaves, fresh or dry, on meat, fish and vegetables or just smell the aromatic air around the tiny flowers. And the wine to go along would in my mind be my West Crest Cuvée or West Tuscan Cuvée both suiting the Mediterranean kitchen well.