Viognier - the queen of golden aromas
Monday July 31, 2017
Peach, pineapple, pear, flowery yet dry, golden yellow and with a big smooth texture that fills your mouth – that is my way of describing Viognier, our Viognier wine.
The grape is thought to have originated in the northern Rhone valley and probably quite a long time ago. It is found in many Rhone wines, both red and white but its big fame and the most exquisite wines made from Viognier are from Condrieu. Appellation Condrieu, the AOC Condrieu, can only contain 100% Viognier and it is a small area of steep hillside vineyards to the east of the river Rhone. Until just a few decades ago it was not well known outside of France and the grapes were not grown in many other places.
Viognier has also been used in blends from other parts of the Rhone valley, with other whites such as Marsanne and Rousanne as well as in red blends. Another fascinating use of Viognier is for copigmentation of Syrah wines. Traditionally some Viognier has often been fermented together with Syrah grapes, especially in Côte-Rotie and it is thought that it deepens the red color of the Syrah wine. Copigmentation is a topic of scientific study and it has been shown that tannin compounds in grapes can enhance each other's colors, even a white grape can have this effect. This method is also used by some winemakers in California nowadays.
Today the grape is also grown in other parts of France, as well as in Italy, Australia, the US and more places, even though still in small quantities. At West Wines we grow our own Viognier and I make both a dry white wine from 100% Viognier as well as a Late Harvest Viognier dessert wine. I use the French Condrieu as my style icon and we pick early to ensure enough acidity. The grape has inherent big flowery aromas and a noticeable texture in the mouth feel, like a Chardonnay. It is a pleasant wine with pineapple, melon and peach on the nose and the palate. Contrary to many believes, it ages quite nicely as the young Viognier with flavors of green kiwi, pineapple and melon give way to mature peach, apricot and nuts when the wine is 4-6 years old. It is delightful to pair with flavorful fish dishes, seafood as well as chicken. In particular it goes really well with more spicy food, e.g. Thai food, Ahi tuna and my home country's gravlax, cured salmon. Recipe here.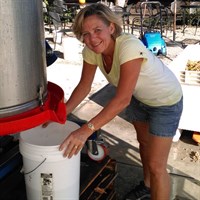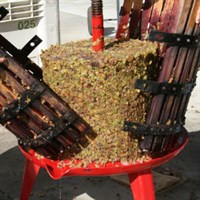 Our dessert version of the Viognier is a Late Harvest. It means that the grapes are left hanging an extra 3-4 weeks after the  regular harvest. The sugar levels go up and the grapes shrivel so the volume of juice is about 25-30% per acre compared to the regular Viognier. I can only make Late Harvest wine when the fall weather promises to stay dry and warm so it is only made certain years. On the other hand, this wine can last a long-time due to its alcohol of 15.5% and sugar level of about 6%. It is a nectar of mature peach, mango, honeydew melon, almond and pairs beautifully with berry desserts, almond pastry (here is one of my favorites), aged Gouda cheese and goat cheeses. And when you open a bottle you can keep it in the fridge for a couple of weeks since it is a wine you drink in smaller amounts. Alas, it does not last very long in our house though.