A Winery visit in Myanmar
Saturday January 12, 2019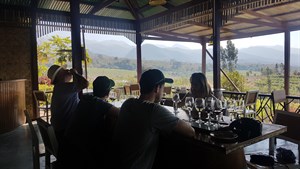 There are wineries in so many different parts of the world today. Winemakers experiment with growing vines in places where the climate is quite different from that of Southern and Western Europe.
One such place that I visited recently is in Myanmar, on the hillside sloping down towards Inle Lake in the south of Shan state. Red Mountain Winery is at an altitude of 1000meters, 3200 feet, above sea levels and the season are quite different. I wandered the vineyards in January and saw grapes which will be harvested in March. This is the dry season, but quite warm, once the rains start in May it will still be warm, but very rainy until October. I can just imagine the challenge both as a grower and as a winemaker.
The Tasting Room is charming, a big terrace overlooking the lake down below and it is a popular place for wine tasting as well as a nice meal.
The wines we tasted were very pleasant. While they have experimented growing various European grapes it seems that some have been favored such as Sauvignon Blanc, Muscat and interestingly Pinot Noir. The wines are well made, but do not have the same flavor profiles those grapes will give a wine from European or North American soil.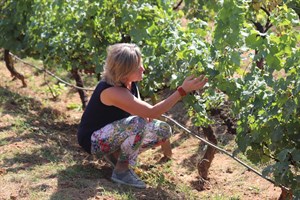 The Sauvignon Blanc, made as a dry table wine, was unmistakably a Sauvignon Blanc, but had more exotic flavors, in particular I noticed some saffron on the nose and on the palate. The Muscat I tasted was the dessert version and had a lovely nose and quite nice after taste of mango. The most different one however was the Pinot Noir which was both spicy but also had a smokiness very different from classic Pinot Noir. While these wines do not have the same acidity that we are used to, they match the local cuisine quite well and I think that is the most important, to make wines to be enjoyed with local food.
All in all it was rewarding to see that new versions of classic wines can be created in a very different climate.