Carménère - the almost extinct Bordeaux grape rediscovered in Chile
Wednesday March 4, 2020
Chile is the wine country that can brag about rediscovering the Bordeaux grape Carménère.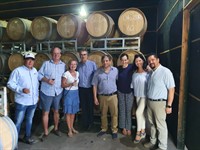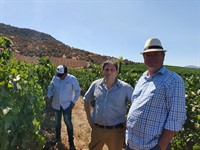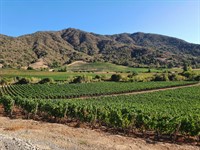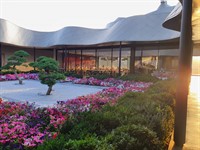 After the phylloxera bug killed off a lot of the vineyards in Europe in the late 19th century the Carménère grape was not replanted in Bordeaux since it was already hard to get to flower and ripen in the cool and humid Atlantic climate. It was thought to be mostly extinct when it was rediscovered in 1994 in Chile. It had been masquerading as Merlot. Cuttings had been planted around 1850  from pre-phylloxera Bordeaux since Chilieans wanted to create European style wines. The vines were planted together without paying much attention to separating varietals as they were producing blends anyway. For a long time what was thought to be Merlot had many vines which simply didn't ripen until weeks after the Merlot, but they were harvested and vinified together. Unfortunately unripe Carménère has a lot of green pepper and herbaceous notes.
Long story short – French researcher Claude Vallat in 1994 could identify these vines as a strain of Carménère and Chilean winemakers started to figure out how to make the best wine from it, rather then adding it as unripe grapes in their Merlot wines. The warm and dry climate in the middle of Chile has proven ideal for this grape and beautiful wines are produced now that the varietal is allowed to ripen to its potential.
Bengt and I visited some great vineyards and our favorite was actually the smallest. Vina La Torina www.latorina.cl . With 75 acres planted to Cabernet Sauvignon and Carménère they are producing award-winning wines. I particularly liked their smooth, deep soft tannin 2015 Carménère with flavors of raspberry, licorice and some spicy notes as well. The whole family took time off their Sunday to show us around and we had a wonderful tasting in their winery. They are now preparing to build a Tasting Room on the hillside of their vineyards and I look forward to go back and visit next year. Bravo!!
On the other end of the spectrum we visited Vina VIK www.vikwine.com  which has 1000 acres planted and makes three different blends in a Bordeaux style.They are a bit overpriced for being nice but not outstanding. La Piu Belle has a very cool bottle design - so I had to get some bottles. This gigantic project started in 2004 by Alexander Vik and the winery has a very impressive winery and cellar using streaming water and underground location for cooling. This is a design adventure and the boutique hotel on the property is a destination by itself and has a very cool restaurant as well. I did go running in the early morning around the vineyards and found that there is some neglect in the vineyard management, not sure why, maybe it is too big of a project.
I am definitely going back for more discovery next year.